SOUL OPTIMIZATION
THE ART OF THE YOGIC LIFESTYLE
If you want your relationships to be supportive, loving, and healing, and you want to serve, create community, and uplift others, this course is really for you. Do you find yourself energetically sensitive and want to heal an injury? Make a positive change in your relationship with yourself and affect others in uplifting ways that surcharge your environment with positive energy?
This work fulfills the need to look inside, take ownership, transform and step into alignment with your unique gifts, opportunities, and realizations.
Self-growth has become my passion. Through my journey into integrity, I have developed my spiritual practice and integrated all I have learned into this course. I'm super excited because the puzzle pieces finally fell together and culminated in this course.
The course gives you a comprehensive understanding of developing your spiritual practice with guidance and a clear understanding of who you are and how to best support yourself by being your best.
Are you ready to meet yourself where you are, sometimes have your feet held to the fire by a supportive guide, and transform with this course magnificently into the person you would like to be?
Soul Optimization is a 6 month personal journey designed, taught one-on-one to fulfill your transformation and growth on the spiritual path.  We will use Kundalini Yoga, Meditations, Breath work, and Soul Realignment Akashic Record Readings and Strength Training to create a lifelong protocol for your optimization.
The course is  Six modules, with an online platform for the materials. We meet once a month for a 3-hour session, followed by a month of homework consisting of yoga, meditations, reading yogic texts, online discussions, and video recordings.
6 Modules
The Yogic model and Bhakti Path
Pranayama
Five states of Mind, Tattva, and the 24 Elements of Sankhya Philosophy
Chakras
Sound, Shabda Brahma
Prasadam, Food and Cleanses
This life-changing course is an extraordinary chance to go deeper into knowing yourself. Creating the optimal way to grow, stay in optimal shape both in mind and body and spirit. You will receive one-on-one instruction tailored precisely to your needs. If you have been through level one yogic training, think of this as graduate school.  This course is open to the beginner and a more advanced practitioner.
What people are saying:
'This program has considerably changed my life.  I have learned how, through breathwork, how to ground and release thought patterns in minutes, if not seconds.  How to react appropriately from a neutral mind.  My negative mind is easier to control.  If I start to go into suffering or self-doubt I have the tools now to get back in alignment quickly. 
Returning to the Bhakti path I now feel more myself.  You have shown me the way to live a life that is filled with love and gratitude.  As I see the Divine in everyone, I can't help but feel love and compassion for them.  I have learned how to be kind to myself, that is a big change!   When I look in the mirror I see my true self, part, and parcel of the Divine, no judgment.   I have learned to see the Divine in every situation and the beauty of each circumstance and the opportunity to remember the Divine.
When I look back at where I was a year ago and then 6 months ago when I started this program the shift is amazing.  This beautiful program, this gift, you have created means so much to me.   Thank you for all of your patience and for holding my feet to the fire when you needed to.  I have to say that I don't think I have ever been cared for as much as you have cared for me over the last 6 months, especially.  
Thank you for all you have done for me.'  Andrea
Investment:
3 ways to pay, you choose the best option for you.
Per month: $330.00
Three payments: due at intervals, we agree on, $650.00
a one-time fee of $1800.00
Kindly email Sahaj if you are interested, and we can talk further.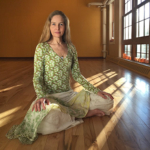 About Sahaj Kaur
I am a KRI-certified Professional Trainer. I am a fine artist and a teacher of Hatha, Kundalini, and Meridian yoga. An expert in postures, I bring a deep level of foundational experience and subtle depth of knowledge to my classes. I has thousands of hours of teaching time both in group classes and Level One Teacher's Trainings, supporting and helping to direct people to find their individual paths since 2000.
Get Ready to Transform Your Life
Opt-in for your free Consultation.
Other Ways You Can Work With Me
Get Connected
Stay in touch with me!
"No one who achieves success does so without the help of others. The wise and confident acknowledge this help with gratitude."
"Everything you perceive is your presence. Today, look deeply into every moment and perceive divine presence. Recognize each circumstance as having a particular bearing on your soul. Over time, this practice will bring you presence of mind and make manifest your own catalytic presence. "
"At times, our own light goes out and is rekindled by a spark from another person. Each of us has cause to think with deep gratitude of those who have lighted the flame within us." ~ Albert Schweitzer